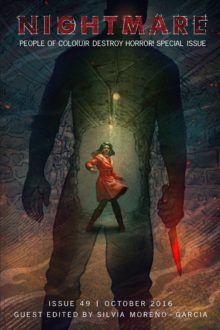 People of Colo(u)r Destroy Horror!, our special all-POC issue of Nightmare Magazine, funded as a stretch goal of the People of Colo(u)r Destroy Science Fiction! campaign, will be released October 1, 2016.
People of Colo(u)r Destroy Horror!
Table of Contents
Original Short Stories (edited by Silvia Moreno-Garcia)
A Diet of Worms — Valerie Valdes
Wish You Were Here — Nadia Bulkin
None of This Ever Happened — Gabriela Santiago
The Taming of the Tongue — Russell Nichols
Reprint Fiction (selected by Tananarive Due)
Cruel Sistah — Nisi Shawl
The Show — Priya Sharma
Wet Pain — Terence Taylor
Monstro — Junot Díaz
Author Spotlights (edited by Arley Sorg)
Valerie Valdes
Nadia Bulkin
Gabriela Santiago
Russell Nichols
Nisi Shawl
Priya Sharma
Terence Taylor
Junot Díaz
Nonfiction (edited by Maurice Broaddus)
The H Word: The Darkest, Truest Mirrors — Alyssa Wong
Horror is…Not What You Think or Probably Wish It Is — Chesya Burke
Terror, Hope, Fascination, and Fear in Filipino Horror — Rochita Loenen-Ruiz
Horror, Inside Out — Jayaprakash Satyamurthy
The Thing We have to Fear — Chinelo Onwualu
Interview: Victor LaValle — Maurice Broaddus
Artists Gallery by Reiko Murakami, Kimberly Wengerd, Maggie Chiang,

Saïna Six
Illustrations (art direction by Pablo Defendini)
Kimberly Wengerd — "A Diet of Worms" by Valerie Valdes
Maggie Chiang — "Wish You Were Here" by Nadia Bulkin

Saïna Six

— "Cruel Sistah" by Nisi Shawl
Reiko Murakami — "The Show" by Priya Sharma (cover story)
Editorial Team
Silvia Moreno-Garcia, Guest Editor / Fiction Editor
Silvia Moreno-Garcia is the author of Signal to Noise, a tale of music, magic, and Mexico City which The Guardian has called "a magical first novel." Her debut collection, This Strange Way of Dying, was a finalist for The Sunburst Award for Excellence in Canadian Literature of the Fantastic. Her stories have also been collected in Love & Other Poisons. She has edited several anthologies, including Dead North and Fractured: Tales of the Canadian Post-Apocalypse. She blogs at silviamoreno-garcia.com and tweets @silviamg. Her Mexican vampire novel, Certain Dark Things, goes on sale October 25, 2016.
---
Tananarive Due, Reprint Editor

Tananarive Due is the recipient of The American Book Award and the NAACP Image Award and has authored and/or co-authored twelve novels and a civil rights memoir. In 2013, she received a Lifetime Achievement Award in the Fine Arts from the Congressional Black Caucus Foundation. In 2010, she was inducted into the Medill School of Journalism's Hall of Achievement at Northwestern University. She has also taught at the Geneva Writers Conference, the Clarion Science Fiction & Fantasy Writers' Workshop, and Voices of Our Nations Art Foundation (VONA). Due's supernatural thriller The Living Blood won a 2002 American Book Award. Her novella "Ghost Summer," published in the 2008 anthology The Ancestors, received the 2008 Kindred Award from the Carl Brandon Society, and her short fiction has appeared in best-of-the-year anthologies of science fiction and fantasy.
---
Maurice Broaddus, Nonfiction Editor
Maurice Broaddus is the author of the Knights of Breton Court urban fantasy trilogy: King Maker, King's Justice, and King's War (Angry Robot Books). His fiction has been published in numerous magazines and anthologies, including Asimov's Science Fiction, Lightspeed Magazine, Cemetery Dance, Apex Magazine, and Weird Tales Magazine. Some of his stories are being collected in the upcoming Voices of the Martyrs (Rosarium Publishing). He co-edited Streets of Shadows (Alliteration Ink) and the Dark Faith anthology series (Apex Books). You can keep up with him at his web site, www.MauriceBroaddus.com.
---
Arley Sorg, Author Spotlights Editor
Arley Sorg grew up in England, Hawaii and Colorado. He went to Pitzer College and studied Asian Religions. He lives in Oakland, and most often writes in local coffee shops. He has a number of short stories out at various markets and is hammering out a novel. A 2014 Odyssey Writing Workshop graduate, he works at Locus Magazine. He's soldering together a novel, has thrown a few short stories into orbit, and hopes to launch more.
---