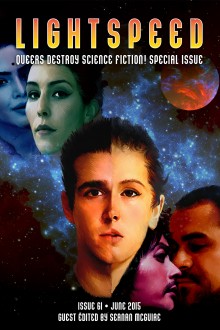 Content available to read free on the site is linked below. All other content is exclusive to the complete edition, available as an ebook from the Lightspeed store, or in trade paperback from Amazon.
Queers Destroy Science Fiction!
Table of Contents
Original Short Stories (edited by Seanan McGuire)
The Tip of the Tongue—Felicia Davin
Die, Sophie, Die—Susan Jane Bigelow
Plant Children—Jessica Yang
Two By Two—Tim Susman
Trickier with Each Translation—Bonnie Jo Stufflebeam
How to Remember to Forget to Remember the Old War—Rose Lemberg
Original Flash Fiction (edited by Sigrid Ellis)
Reprint Fiction (selected by Steve Berman)
CyberFruit Swamp—Raven Kaldera
The Sound of His Wings—Rand B. Lee
O Happy Day!—Geoff Ryman
Author Spotlights (edited by Sandra Odell)
John Chu
Kate M. Galey
Bonnie Jo Stufflebeam
Chaz Brenchley
Felicia Davin
Rose Lemberg
Jessica Yang
K.M. Szpara
Amal El-Mohtar
Tim Susman
Susan Jane Bigelow
RJ Edwards
AMJ Hudson
Raven Kaldera
Rand B. Lee
Geoff Ryman
Nonfiction (edited by Mark Oshiro)
Excerpt (presented by Open Road Media)
Personal Essays (edited by Wendy N. Wagner)
Illustrations (art direction by Elizabeth Leggett)
Podcasts (produced by Paul Boehmer)
Emergency Repair—Kate Galey
勢孤取和 (Influence Isolated, Make Peace)—John Chu
Madeleine—Amal El-Mohtar
The Astrakhan, the Homburg and the Red Red Coal—Chaz Brenchley
Nothing is Pixels Here—K. M. Szpara
Black Holes—RJ Edwards
Red Run—AMJ Hudson
Melioration—E. Saxey
QDSF Editorial Team
Seanan McGuire, Guest Editor-in-Chief/Original Fiction Editor
Seanan McGuire (who also writes as Mira Grant) is the bestselling author of more than a dozen novels, with her latest releases being Symbiont, Midnight Blue-Light Special, The Winter Long, Half-Off Ragnarok, and Sparrow Hill Road. She is a ten-time finalist for the Hugo Award, as well as the 2010 winner of the John W. Campbell Award for Best New Writer. Her short fiction has appeared in the magazines Lightspeed, Apex, Fantasy, and Nightmare and in numerous anthologies, including Robot Uprisings, The End is Nigh, Wastelands 2, Glitter & Mayhem, Dead Man's Hand, Games Creatures Play, and The Mad Scientist's Guide to World Domination, among others. She is a regular blogger and dissector of media, and one of the contributors to the Hugo Award-winning podcast SF Squeecast. Find her on Twitter @seananmcguire.
Steve Berman, Reprint Editor
Steve Berman has edited more than thirty anthologies, including the Shirley Jackson Award finalist, Where Thy Dark Eye Glances: Queering Edgar Allan Poe and the annual series Wilde Stories: The Year's Best Gay Speculative Fiction, which has been a two-time finalist for the Lambda Literary Award. His gay YA novel, Vintage, was a finalist for the Andre Norton Award. He founded Lethe Press, one of the larger LGBT publishers, in 2001. He resides in New Jersey, the only state in the Union with an official devil.
Paul Boehmer, Podcast Producer
Paul Boehmer attended his first Shakespearean play while in high school; he knew then that he was destined to become the classically trained actor he is today. Graduating with a Masters Degree, Paul was cast as Hamlet by the very stage actor who inspired his career path. A nod from the Universe he'd chosen aright! Paul has worked on Broadway and extensively in Regional Theatre; coinciding with another of his passions, Sci-Fi, Paul has been cast in various roles in many episodes of Star Trek. Paul's love of literature and learning led him by nature to his work as a narrator for Books on Tape, his latest endeavour. Paul is married to the love of his life, Offir and they live in Los Angeles with their two midnight-rambling Tomcats Dread & David.
Cecil Baldwin, Podcast Host
Cecil Baldwin is the voice of the wildly popular podcast Welcome to Night Vale, written by Joseph Fink and Jeffery Cranor. Cecil plays Cecil Palmer, a radio host who reports on the strange goings-on in Night Vale, a desert community where monsters and conspiracies are just daily occurrences.
Sigrid Ellis, Flash Fiction Editor
Sigrid Ellis is co-editor of the Hugo-nominated Queers Dig Time Lords and Chicks Dig Comicsanthologies. She edits the best-selling Pretty Deadly from Image Comics and edited the Hugo-nominated Apex Magazine in 2014. She lives with her partner, their two homeschooled children, her partner's boyfriend, and a host of vertebrate and invertebrate pets in Saint Paul, MN.
Mark Oshiro, Nonfiction Editor
What if you could re-live the experience of reading a book (or watching a show) for the first time? Mark Oshiro provides just such a thing on a daily basis on Mark Reads and Mark Watches, where he chronicles his unspoiled journey through various television and book series. He mixes textual analysis, confessional blogging, and humor to analyze fiction that usually makes him cry and yell on camera. He's been nominated for a Hugo in the Fan Writer category in 2013 and 2014 for his work, and he's nearly done with his first novel.
Wendy N. Wagner, Managing Editor
Wendy N. Wagner grew up in a town so small it didn't even have its own post office, and the bookmobile's fortnightly visit was her lifeline to the world. Her short fiction has appeared in magazines and anthologies including Beneath Ceaseless Skies,The Lovecraft eZine, Armored, The Way of the Wizard, and Heiresses of Russ 2013: The Year's Best Lesbian Speculative Fiction. Her first novel, Skinwalkers, is a Pathfinder Tales adventure. An avid gamer and gardener, she lives in Portland, Oregon, with her very understanding family. Follow her on Twitter @wnwagner.