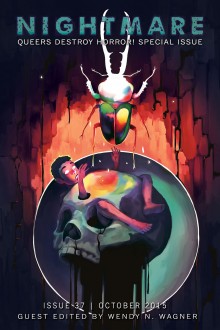 Queers Destroy Horror!, our special all-queer issue of Nightmare Magazine, funded as a stretch goal of the Queers Destroy Science Fiction! campaign, is now available!
Queers Destroy Horror!
Table of Contents
Original Fiction – edited by Wendy N. Wagner

Golden Hair, Red Lips — Matthew Bright
Dispatches from a Hole in the World — Sunny Moraine
The Lord of Corrosion — Lee Thomas
Hungry Daughters of Starving Mothers — Alyssa Wong
Let's See What Happens — Chuck Palahniuk
Reprint Fiction – selected by Wendy N. Wagner
Bayou de la Mère — Poppy Z. Brite
Alien Jane — Kelley Eskridge
Rats Live on No Evil Star — Caitlín R. Kiernan
Reprint Poetry – selected by Robyn Lupo

The Skin-Walker's Wife by Lisa M. Bradley
No Poisoned Comb — Amal El-Mohtar
The Rotten Leaf Cantata — Rose Lemberg
On Moving Into Your New Home — Brit Mandelo
Flourless Devil's Food — Shweta Narayan
In Memoriam: Robert Nelson — W. H. Pugmire
Worm and Memory — Lucy A. Snyder
The Great Unknown — Joel Lane
Nonfiction – edited by Megan Arkenberg

Roundtable Interview with Meghan McCarron, Brit Mandelo, Rahul Kanakia, and Carrie Cuinn — Megan Arkenberg
Creatures of the Night: A Short History of Queer Horror — Catherine Lundoff
The H Word: A Good Story — Lucy A. Snyder
The Language of Hate — Sigrid Ellis
Effecting Change and Subversion Through Slush Pile Politics — Michael Matheson
Putting It All the Way In: Naked Lunch and the Body Horror of William S. Burroughs — Evan J. Peterson
Artists' Spotlight: Five Queer Artists Destroying Horror Art — Cory Skerry and Megan Arkenberg
Author Spotlights – edited by Traci Castleberry

Matthew Bright
Kelley Eskridge
Lee Thomas
Caitlin R. Kiernan
Sunny Moraine
Alyssa Wong
Chuck Palahniuk
Illustrators – Art Direction by Cory Skerry

A.J. Jones (Cover)
Elizabeth Leggett (Dispatches from a Hole in the World, Let's See What Happens)
Cory Skerry (Hungry Daughters of Starving Mothers)
Eliza Gauger (Lord of Corrosion)
KG Schmidt (Golden Hair, Red Lips)
Editorial Team
Wendy N. Wagner, Guest Editor / Fiction Editor
Wendy N. Wagner grew up in a town so small it didn't even have its own post office, and the bookmobile's fortnightly visit was her lifeline to the world. Her short fiction has appeared in magazines and anthologies including Beneath Ceaseless Skies,The Lovecraft eZine, Armored, The Way of the Wizard, and Heiresses of Russ 2013: The Year's Best Lesbian Speculative Fiction. Her first novel, Skinwalkers, is a Pathfinder Tales adventure. When not guest-editing, she's also the Managing/Associate Editor of Lightspeed and Nightmare. An avid gamer and gardener, she lives in Portland, Oregon, with her very understanding family. Follow her on Twitter @wnwagner.
Robyn Lupo, Poetry Editor
Robyn Lupo has been known to lurk around Southwestern Ontario, complaining about the weather. She helped destroy flash-sized science fiction in 2014 and hopes to wreck poetry for decent people everywhere soon.
Megan Arkenberg, Nonfiction Editor
Megan Arkenberg lives and writes in California. Her short stories have appeared in Lightspeed, Asimov's, Strange Horizons, and dozens of other places. She procrastinates by editing the fantasy e-zine Mirror Dance.
Craig Laurance Gidney, Assistant Editor
Craig Laurance Gidney writes both contemporary, young adult and genre fiction. Gidney's first collection, Sea, Swallow Me and Other Stories was a finalist for the 2009 Lambda Literary Award in the Science Fiction/Fantasy and Horror category. Bereft (Tiny Satchel Press), a YA novel, appeared in 2013. Skin Deep Magic (Rebel Satori Press) is his third book. Gidney lives and writes in his native Washington, DC.
Lisa Nohealani Morton, Assistant Editor
Born and raised in Honolulu, Lisa Nohealani Morton lives in Washington, DC. By day she is a mild-mannered database wrangler, computer programmer, and all-around data geek, and by night she writes science fiction, fantasy, and combinations of the two. Her short fiction has appeared in publications such as Lightspeed, Daily Science Fiction, and the anthology Hellebore and Rue. She can be found on Twitter as @lnmorton.
Traci Castleberry, Editorial Assistant
Traci Castleberry lives in the Arizona desert. By night, she works the graveyard shift at a hotel and enjoys catching creepy-crawlies like snakes, scorpions, tarantulas and Gila monsters. By day, she's the willing servant of two cats and a Lipizzan mare who has a habit of arranging the universe. She's attended Clarion, Taos Toolbox and the Lambda Literary Retreat for Emerging LGBT Writers and has been a judge for the Lambda Literary Awards. Her publications include stories in Daughters of Frankenstein, Suffered from the Night and Lace and Blade 2 as herself while her alter ego, Evey Brett, has written books including Capriole, Levade and Passage and has numerous short stories with Cleis Press, Lethe Press, Pathfinder Web Fiction and elsewhere. She can be found online at eveybrett.wordpress.com.
Cory Skerry, Art Director
Cory Skerry lives in the Northwest U.S. with his partner and a menagerie that includes a bonafide dragon. He spends his time peddling (or meddling with) art supplies and writing about impossible things. When he dies, he would like science to put his brain into a giant octopus body, with which he promises to be very responsible and not even slightly shipwrecky. More of his nonsense can be found at plunderpuss.net.