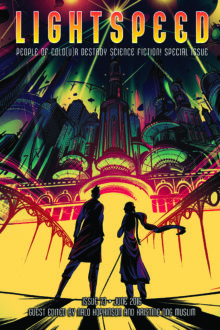 LIGHTSPEED was founded on the core idea that all science fiction is real science fiction. The whole point of this magazine is that science fiction is vast. It is inclusive. Science fiction is about people and for people—all kinds of people, no matter where they're from or what they look like.
The People of Colo(u)r Destroy Science Fiction! special issue exists to relieve a brokenness in the genre that's been enabled time and time again by favoring certain voices and portrayals of particular characters. Here we bring together a team of POC writers and editors from around the globe to present science fiction that explores the nuances of culture, race, and history. This is science fiction for our present time, but also—most of all—for our future.
People of Colo(u)r Destroy Science Fiction! is 100% written and edited by people of color, and is lead by guest editors Nalo Hopkinson and Kristine Ong Muslim, with editorial contributions from Nisi Shawl, Grace L. Dillon, Berit Ellingsen, Arley Sorg, and Sunil Patel. It features ten original, never-before-published short stories, plus ten original flash fiction stories, by writers such as Steven Barnes, Karin Lowachee, Sofia Samatar, Terence Taylor, Caroline M. Yoachim, and more. All that, plus five classic reprints, by the likes of Samuel R. Delany and Octavia E. Butler; an array of nonfiction articles, interviews, and book reviews; and more than two dozen personal essays from people of colo(u)r discussing their experiences as readers and writers of science fiction.
Enjoy the destruction!
Selected content below will be available to read free on Lightspeed's website during the month of June 2016. All other content is exclusive to the complete edition, available as an ebook from the Lightspeed store, or in trade paperback from Amazon.
People of Colo(u)r
Destroy Science Fiction!
Table of Contents
Original Short Stories (edited by Nalo Hopkinson & Kristine Ong Muslim)
A Good Home by Karin Lowachee
Depot 256 by Lisa Allen-Agostini
Salto Mortal by Nick T. Chan
Digital Medicine by Brian K. Hudson
The Red Thread by Sofia Samatar
Wilson's Singularity by Terence Taylor
Fifty Shades of Grays by Steven Barnes
Omoshango by Dayo Ntwari
Firebird by Isha Karki
As Long as it Takes to Make the World by Gabriela Santiago
Original Flash Fiction (edited by Berit Ellingsen)
An Offertory to Our Drowned Gods by Teresa Naval
Other Metamorphoses by Fabio Fernandes
Breathe Deep, Breathe Free by Jennifer Marie Brissett
Morning Cravings by Nin Harris
The Peacemaker by T.S. Bazelli
Binaries by S.B. Divya
Chocolate Milkshake Number 314 by Caroline M. Yoachim
Four And Twenty Blackbirds by JY Yang
A Handful Of Dal by Naru Dames Sundar
Hiranyagarbha by Kevin Jared Hosein
Reprint Fiction (selected by Nisi Shawl)
The Evening and the Morning and the Night by Octavia E. Butler
Double Time by John Chu
Delhi by Vandana Singh
1965 by

Edmée

Pardo
Empire Star by Samuel R. Delany
Author Spotlights (edited by Arley Sorg)
Karin Lowachee
Lisa Allen-Agostini
Nick T. Chan
Brian K. Hudson
Sofia Samatar
Terence Taylor
Steven Barnes
Dayo Ntwari
Isha Karki
Gabriela Santiago
John Chu
Vandana Singh
Edmée Pardo
Nonfiction (edited by Grace Dillon)
Because Some of Us Survived by Samantha L. Taylor
Doing Dhalgren by Terence Taylor
The Thunderbird's Path by Misha Nogha
Music Medicine by Zainab Amadahy
Interview: Daniel H. Wilson by Grace L. Dillon
Book Reviews: June 2016 by Sunil Patel
Artists Gallery by Alan Bao, Odera Igbokwe, Sonia Liao, Christopher Park, Pugeroni, Tanna Tucker, Melanie Ujimori, Victoria Ying
Excerpt (presented by Tor Books)
Infomocracy by Malka Older
Personal Essays (edited by Sunil Patel)
Illustrations (art direction by Henry Lien)
Victoria Ying—A Good Home by Karin Lowachee
Alan Bao—Salto Mortal by Nick T. Chan
Pugletto—Fifty Shades of Grays by Steven Barnes
Sonia Liao—Wilson's Singularity by Terence Taylor
Melanie Ujimori—The Red Thread by Sofia Samatar
Odera Igbokwe—Double Time by John Chu
Christopher Park—Delhi by Vandana Singh
Tanna Tucker—Hiranyagarbha by Kevin Jared Hosein
Podcasts (produced by Vikas Adam)
A Good Home by Karin Lowachee
Salto Mortal by Nick T. Chan
Fifty Shades of Grays by Steven Barnes
Wilson's Singularity by Terence Taylor
The Red Thread by Sofia Samatar
Double Time by John Chu
Delhi by Vandana Singh
Hiranyagarbha by Kevin Jared Hosein
Editorial Team
Nalo Hopkinson, Co-Editor-in-Chief/Original Fiction Editor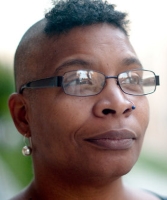 Nalo Hopkinson is a Jamaican-born Canadian whose taproots extend to Trinidad and Guyana. She has published numerous novels and short stories, and has edited and co-edited anthologies, including Whispers From the Cotton Tree Root: Caribbean Fabulist Fiction, and Mojo: Conjure Stories. Her writing has received the John W. Campbell Memorial Award, the Locus Award, the World Fantasy Award, the Sunburst Award for Excellence in Canadian Literature of the Fantastic, and the Andre Norton Award. Hopkinson is a professor of Creative Writing at the University of California, Riverside. She has taught at both the Clarion Writers' Workshop and the Clarion West Writers' Workshop. Hopkinson's short story collection Falling in Love With Hominids was published in 2015 by Tachyon Books. Learn more at nalohopkinson.com.
---
Kristine Ong Muslim, Co-Editor-in-Chief/Original Fiction Editor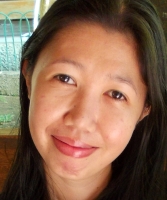 Kristine Ong Muslim is the author of We Bury the Landscape (Queen's Ferry Press, 2012), Grim Series (Popcorn Press, 2012), and A Roomful of Machines (ELJ Publications, 2015). Her forthcoming books include the short story collection Age of Blight (Unnamed Press, 2016) and two poetry collections from university presses in the Philippines. Her stories appeared in One Buck Horror, Confrontation Magazine, The State, and elsewhere. She lives in southern Philippines and serves as poetry editor of LONTAR: The Journal of Southeast Asian Speculative Fiction, a literary journal published by Epigram Books in Singapore. Learn more at kristinemuslim.weebly.com.
---
Nisi Shawl, Reprint Editor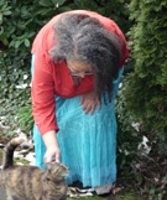 Nisi Shawl is a founder of the Carl Brandon Society and a member of Clarion West's Board of Directors. Since its 2011 inception she has edited reviews for feminist literary quarterly The Cascadia Subduction Zone. Books Shawl has edited include Bloodchildren: Stories by the Octavia E. Butler Scholars; and WisCon Chronicles 5: Writing and Racial Identity; she also co-edited Strange Matings: Science Fiction, Feminism, African American Voices, and Octavia E. Butler; and Stories for Chip: A Tribute to Samuel R. Delany. With Cynthia Ward she coauthored 2005 Tiptree Longlist book Writing the Other: A Practical Approach. Her story collection Filter House co-won the 2009 Tiptree Award. Shawl's Belgian Congo steampunk novel Everfair is due out from Tor in August 2016.
---
Berit Ellingsen, Flash Fiction Editor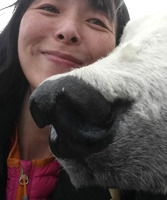 Berit Ellingsen's novel Not Dark Yet will be published by Two Dollar Radio in November 2015. Berit is the author of the short story collection Beneath the Liquid Skin (firthFORTH Books) and the novel Une Ville Vide (PublieMonde), with work in W.W. Norton's Flash Fiction International, SmokeLong Quarterly, Unstuck, The Humanity of Monsters, and other places. Berit's stories have been nominated for the Pushcart Prize, Best of the Net, and the British Science Fiction Association Award. The author divides time between Norway and Svalbard in the Arctic, and is a member of the Norwegian Authors' Union. Learn more at beritellingsen.com.
---
Arley Sorg, Author Spotlights Editor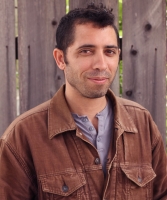 Arley Sorg grew up in England, Hawaii and Colorado. He went to Pitzer College and studied Asian Religions. He lives in Oakland, and most often writes in local coffee shops. He has a number of short stories out at various markets and is hammering out a novel. A 2014 Odyssey Writing Workshop graduate, he works at Locus Magazine. He's soldering together a novel, has thrown a few short stories into orbit, and hopes to launch more.
---
Grace Dillon, Nonfiction Editor
Grace L. Dillon (Anishinaabe) is a Professor in the Indigenous Nations Studies Program, School of Gender, Race, and Nations, at Portland State University in Portland, Oregon, where she teaches graduate and undergraduate courses on a range of interests including Native American and Indigenous studies, science fiction, Indigenous cinema, popular culture, race and social justice, and early modern literature. She is the editor of Walking the Clouds: An Anthology of Indigenous Science Fiction (University of Arizona Press, 2012) and Hive of Dreams: Contemporary Science Fiction from the Pacific Northwest (Oregon State University Press, 2003). Her work appears in diverse journals including The Journal of Science Fiction Film and Television; Foundation: The International Review of Science Fiction; Extrapolation; The Journal of the Fantastic in the Arts; The Historical Journal of Film, Radio and Television; Science Fiction Studies; Parabola; and Renaissance Papers.
---
Sunil Patel, Personal Essays Editor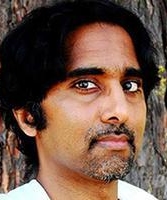 Sunil Patel is a Bay Area fiction writer and playwright who has written about everything from ghostly cows to talking beer. His plays have been performed at San Francisco Theater Pub and San Francisco Olympians Festival, and his fiction has appeared or is forthcoming in Fireside Magazine, Orson Scott Card's Intergalactic Medicine Show, Flash Fiction Online, The Book Smugglers, Fantastic Stories of the Imagination, and Asimov's Science Fiction. Plus he is Assistant Editor of Mothership Zeta. His favorite things to consume include nachos, milkshakes, and narrative. Find out more at ghostwritingcow.com, where you can watch his plays, or follow him @ghostwritingcow. His Twitter has been described as "engaging," "exclamatory," and "crispy, crunchy, peanut buttery."